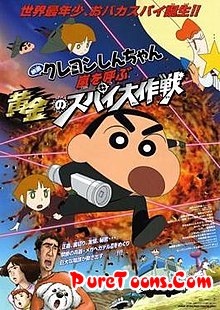 Movie Name: Shinchan Movie The Storm Called: Operation Golden Spy
Release Year: 2011 (Hindi Release 2013)
Language: Hindi
Duration: 1 hour 40 minutes
Quality: Blueray
Summary: Comical action spy film including an indecent material (flatus) and a story of a girl who had obeyed her parents, but becomes self-aware. A mystery spy girl Lemon Sunomono suddenly appears in front of Shinnosuke, and she calls herself an emissary of Action Kamen. She had trained as a spy by her parents in the Sukashipestan Republic, and works for the Queens. Under her guidance, Shinnosuke decides to be a spy to fight for justice, and receives spy training. Under the instruction of Action Kamen, Lemon and Shinnosuke perform a mission to creep into the laboratory in the Hedelna Kingdom and recapture a capsule from an evil professor, but Lemon finds the real purpose of the Queens, and they fight to foil the plot of the Queens.

Download Links are Below

Download Mp4 360p (222.4 MB)
Download from LetsUpload
Download from MEGA
Direct Download
Download from 2GIGA
Download from SolidFiles
Download 240p (142.9 MB)
Download from LetsUpload
Download from MEGA
Direct Download
Download from 2GIGA
Download from SolidFiles
Download Mp4 480p (350.9 MB)
Download from LetsUpload
Download from MEGA
Direct Download
Download from 2GIGA
Download from SolidFiles