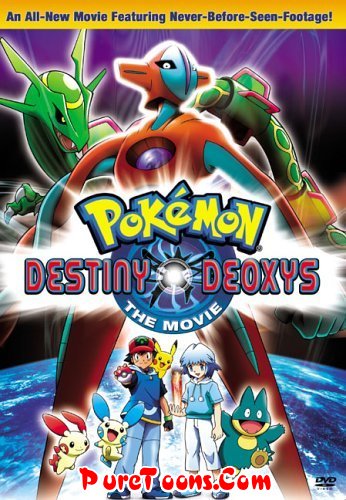 Movie Name: Pokémon the Movie: Destiny Deoxys
Release Year: 2004 (Hindi Release 22 January 2017 – Hungama TV)
Language: Hindi
Duration: 1 hour 38 minutes
Quality: Blueray
Summary: A mysterious meteorite is hurtling towards the earth. During its entry into the atmosphere, it almost wounds Rayquaza, a sky guardian living in the ozone layer. The meteorite crashes into a polar zone, revealing two egg-shaped objects. The purple egg regenerates into a Deoxys and picks up the green egg. Rayquaza descends from the ozone layer to fight the invader (believing it to be an enemy).
The city is filled with blocks of robots when the chief robot becomes hostile, which overwhelm Rayquaza. The twin Deoxys form shields that protect Rayquaza. Seeing that the two Pokémon are willing to protect it in face of this new threat, Rayquaza begins firing Hyper Beams upon the thousands of robots. Ash and Tory work together and ultimately manage to shut off the malfunctioning robots by disabling the chief robot, freeing the twin Deoxys and Rayquaza. Tory almost falls and dies, but is saved by the green Deoxys. Rayquaza, recognising that the Deoxys aren't enemies, flies away peacefully, and the Deoxys form green and purple auroras in the sky as a goodbye to their friends, leaving to an unknown destination. Ash states that wherever they are going, at least they would always have each other. Tory, who has gotten over his fear of Pokémon, agrees and later bids Ash and the others farewell at the train station with his new friends, Plusle and Minun, on his shoulders.

Download Links are Below

Download Mp4 360p (215.6 MB)
Download from 5 Servers
Download from MEGA
Direct Download
Download from 2GIGA
Download from SolidFiles
Download 240p (137.5 MB)
Download from 5 Servers
Download from MEGA
Direct Download
Download from 2GIGA
Download from SolidFiles
Download Mp4 480p (340.5 MB)
Download from 5 Servers
Download from MEGA
Direct Download
Download from 2GIGA
Download from SolidFiles