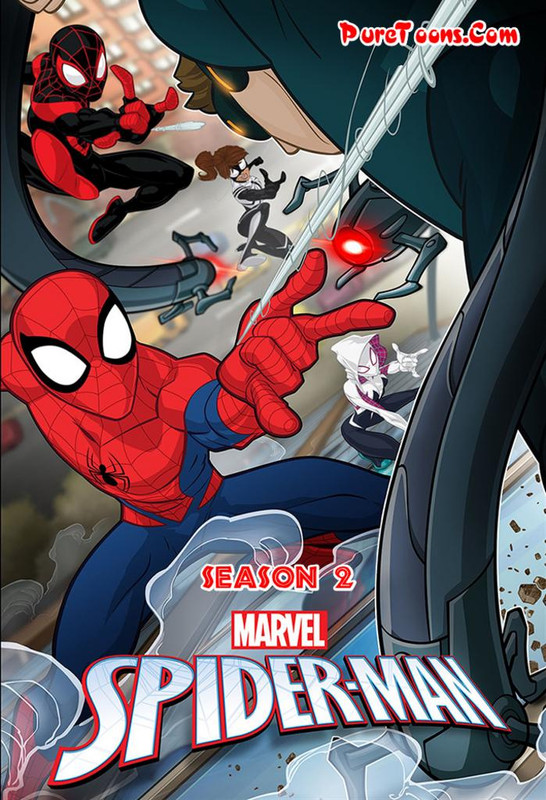 Genre: Animation, Action, Adventure
Running time: 22 minutes
Language: Hindi
Quality: WEB-DL
Summary: In Season 2, Peter navigates through his sophomore year and career at the Daily Bugle while contecontending with Doctor Octopus and the V-252 symbiote, the latter of which has assumed the name "Venom" after merging with Peter's jealous co-worker Eddie Brock. While Peter uncovers a bounty that was seemingly placed on him by Chameleon, Anya adopts the alias Spider-Girl when her Spider Powers from the "Spider-Island" incident resurface and forms a "Spider Team" with Miles and Gwen. Doctor Octopus is revealed to be the true mastermind behind the bounty, his consciousness inhabiting the Living Brain after a past battle resulted in him falling into a coma, and successfully manages to swap bodies with Spider-Man, becoming the Superior Spider-Man.[6]
After being swayed by Peter's memories of Uncle Ben into becoming a hero, Octavius begins working on methods to become more efficient in crime-fighting than Peter ever was. However, his ruthless behavior causes suspicion to Miles when he nearly kills Sandgirl, prompting him to have Iron Man, Black Widow, and Ms. Marvel investigate on his behalf. Meanwhile, Peter's consciousness does whatever it takes to escape the Living Brain via Neuro Cortex and be reunited with his body, encountering memories of Octavius' past in the process. Peter eventually downloads himself into Octavius' discarded tentacles, allowing him to reunite with Miles and inform him of recent events. Concurrently to all this, Gwen regains her Spider Powers from "Spider-Island" thanks to a relic called the Blood Gem and begins working alongside Miles and Anya under the alias Ghost-Spider and Octavius (via Peter's body) re-enrolls Midtown High, where he befriends the assistant chemistry teacher Anna Maria Marconi. Discovering how wrong he was about himself and Spider-Man while protecting Anna Maria from a revenge-crazed (and genetically altered) Venom, Octavius reunites Peter's consciousness and body. After defeating Venom, Spider-Man honors Octavius' heroism by placing his consciousness back in his inactive body.
Despite becoming his former self once more, Spider-Man discovers that a more dangerous enemy known as Regent is seeking to collect the powers of other supervillains to keep the Avengers hostage.

Season 2