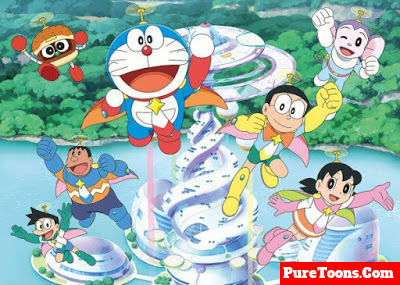 Movie Name: Doraemon: Nobita's Space Heroes (Hindi Dubbed as Doraemon: The Movie Nobita Aur Antariksh Daku)
Release Year: 2015 (Hindi Release 9 November 2018)
Language: Hindi
Duration: 1 hour 40 minutes
Quality: Bluray
Summary: Nobita wishes to be a real hero. Doraemon uses his gadget, the Burger Director to make them a real movie superhero. Aron saw the five powers and abilities and asks them to help him save his planet, the planet Pokkuru. After their journey to the planet, the gang thought it was only Burger's doing but realizing that it is not a movie and they are actually fighting bad guys.

Download Links are Below
Download Mp4 360p (222.39 MB)
Download from MediaFire
Download from MEGA
Download from OpenLoad
Download from 2GIGA
Download from 6 More Servers
Download 240p (141.3 MB)
Download from MediaFire
Download from MEGA
Download from OpenLoad
Download from 2GIGA
Download from 6 More Servers
Download Mp4 480p (351.85 MB)
Download from MediaFire
Download from MEGA
Download from OpenLoad
Download from 2GIGA
Download from 6 More Servers